説明
【Exceptional Curing Inhibition Resistance】Defiant 15 boasts enhanced resistance to curing inhibition caused by UV resin, outperforming traditional platinum silicones. Simply cure your printed part submerged in water for 30 minutes to ensure Defiant 15 cures flawlessly without the need for clear coating. Works best with our Fast, Build, Blu, Easy and Sculpt resins.

【Strength and Durability】Siraya Tech's Defiant 15 silicone mold making kit provides superior flexibility and tear resistance compared to other products on the market. Reusable multiple times, our silicone molds deliver cost-effective casting with a longer lifespan, and can withstand temperatures up to 200°C.

【Low Viscosity Formula】Defiant 15's thinner viscosity compared to other Shore A 15 silicones simplifies the pouring and degassing process, making it more user-friendly for beginners. Expensive professional vacuum chambers aren't required; a careful pouring technique can achieve bubble-free cures.

【Versatile & Food Safe】Defiant 15 by Siraya Tech is a platinum silicone that's safe for food applications - perfect for candy, chocolate, cake, and ice cube molds. It's specially designed for resin, wax, candle, soap, and casting molds. It's also well-suited for architectural detailing, statue and figurine making, and general molding applications. Its balanced hardness and flexibility make it a top choice for many DIY projects.

【Effortless 1A:1B Mixing Ratio】Defiant 15's easy-to-mix 1:1 ratio ensures a bubble-free, self-degassing blend that's simple to use even for novices. Feel confident using this liquid silicone mold as a beginner, and don't hesitate to contact us for support if needed.

Please note
Shipping will be calculated based on the products in the cart.
Payment & Security

Features
Hardness index of Shore 15A
Exceptional resistance to silicone poisoning, especially from UV resin
Minimal post-processing required for proper mold curing
Ideal balance of hardness and flexibility for general molding applications
Outstanding material strength, including tear and heat resistance
FDA Food Safe.
Technical Data
Appearance Translucent
Hardness (Shore A) 15
Density (g/cm3) 1.1
Tensile strength (Mpa) 5.5
Elongation (%) 550
Tear strength (K N/m) 15
Pot life Approximately 15 minutes
Full cure time 4-6 hours
Ambient temperature at 25C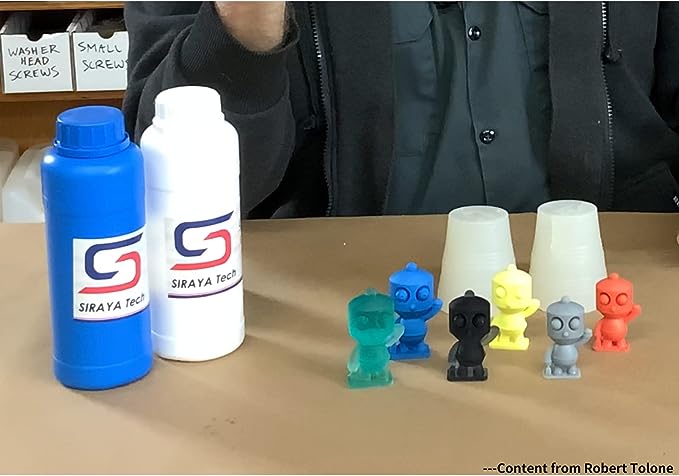 All new Defiant 15 from Siraya Tech with extra resistance to platinum poisoning without complicated post-processing is perfect for your next project. With just 30 minutes of curing the part submerged in water, Defiant 25 will cure without the part being clear coated.

Has good resistance to silicone poisoning, especially due to UV resin. Siraya Tech Defiant 15 requires a lot less post-processing to make mold cure properly.

Platinum silicone poisoning presents a unique challenge, as it arises not only from 3D printing resins but also from the silicone manufacturing process itself. To achieve the best possible results, it's crucial to identify the ideal combination of silicone and resins. Defiant 15 has been engineered to exhibit greater tolerance compared to traditional platinum silicone; however, certain resins inherently offer better compatibility with silicone and necessitate less post-processing.

Resin Selection and Post-Processing: Essential for 3D UV Resin Prints.
Ideal with 3D Printing UV Resin
Defiant 15 liquid silicone has extra resistance to curing inhibition, No coating is needed. It works best with our Fast, Build, Blu, Easy and Sculpt resins.
Tear Resistant & Longevity
Compared with others, Defiant 15 has better flexibility and stronger tear resistance, and silicone rubber has a longer life span and can be reused many times.
Thinner Viscosity
This clear silicone mold making is easy to pour and degas, and it's thinner, making it perfect for beginners.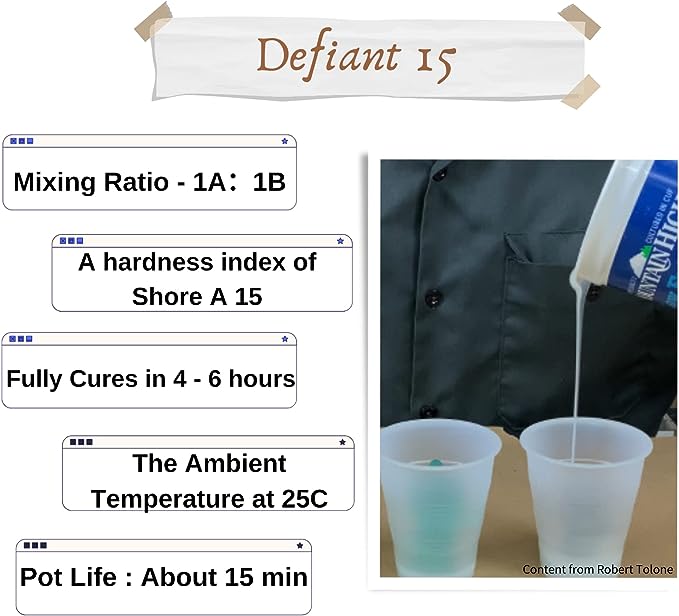 How to use Silicone Defiant 15
1. Mixing A part and B part
Mix Siraya Tech Defiant 15 clear platinum mold making silicone rubber part A and part B in 1:1 by weight (or volume)
2. Stir well
Then stir the silicone mold making rubber for 5 minutes. Make sure to stir the liquid rubber mixture well for better results.
3. Poring into the mold frame
Pour the fully stirred mold making silicone into the film frame, pot life is about 15 minutes and fully cures in 4 - 6 hours (ambient temperature at 25C)
4. Demoulding
Siraya Tech liquid silicone rubber is very easy to release from molds and the resulting molds are very flexible. Even beginners can make their own molds very easily.
Check out this video from Robert on Silicone Use